Agency Marketing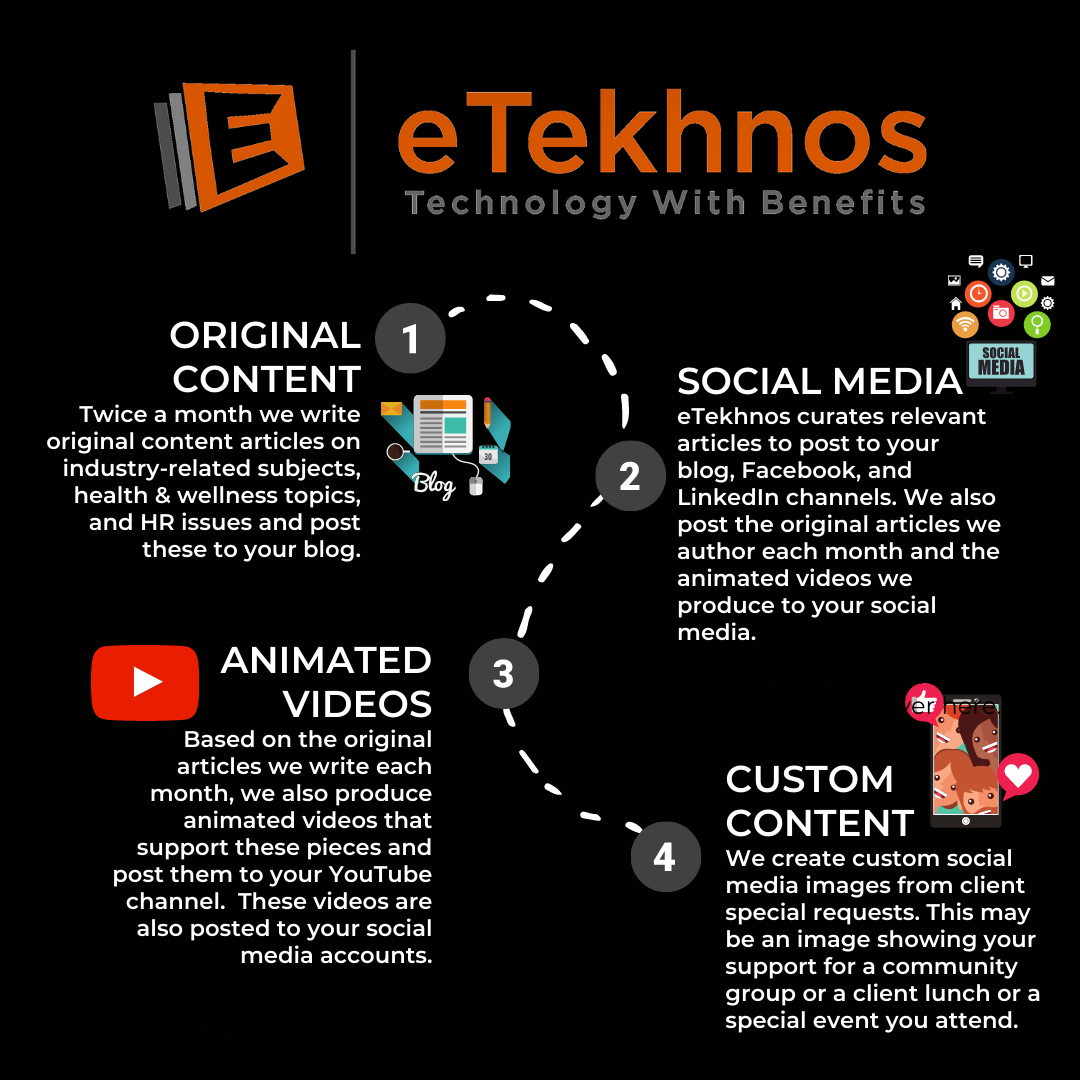 eTekhnos is unique in that our whole focus is eMarketing for the employee benefits industry. We've been partnering with independent agencies to create and manage their online presence since 2005 so we understand the uniqueness of your business. You need for each marketing strategy to create prospect opportunities and serve as a smart touch point for existing clients. From SEO to website development, social media content, blog creation and more we're a one-stop-shop for your online marketing.
Website – Keep it Fresh
Your website should not only be a reflection of your unique brand it should serve as a resource for your customers and prospects. By updating your site content frequently and linking social sites back to your website you can increase site visits and bump up your spot on search engines.
Social Media + Search Engine Optimization (SEO)
SEO and social media are a crucial part of the marketing mix. Your customers are spending an average 4 hours on social media each day, including business sites like LinkedIn, so if your brand is not present you're missing the party. By joining the employee benefits conversation on Facebook, LinkedIn etc. you open up your business to getting noticed by prospects and serving as an industry thought leader. To top it off, every social media post gets your site noticed and tracked by Google which helps improve your search engine rankings.
Content is King
Having relevant and consistent content added to your website and social media accounts is where the rubber meets the road. The eTekhnos team creates and implements a custom content strategy for your agency that includes a mix of articles, industry or vendor topics, eTekhnos developed content, association resources and agency specific ideas. Your agency content posts will be a blend of various media formats such as video, infographics and illustrations related to industry news, personal news and events.
Consistent Outreach
Research shows that it most often takes your prospect up to seven times hearing your message to respond. By creating a marketing content road map with scheduled email blasts, webinars for customers and prospects to join, boosted Facebook or LinkedIn posts and more, we set your agency up for success.