JUST RELEASED:
THE VIRTUAL BENEFITS FAIR
The most custom & cost effective solution for online benefit events and communications.

The Virtual Benefits Fair platform is THE SOLUTION for remote benefits fairs and events. Let employees attend live sessions with carriers and HR rom the comfort and safety of their own homes.
Virtual Benefit Fair allows employers to host live meetings with carrier representatives who will be available to present plan details, answer questions and more.
The eTekhnos team has built a platform that allows us to "construct" a custom virtual benefits fair for a customer in just a few days, then tear it down and re-build if for another customer. The tool can include group presentations, breakout rooms, and a vendor booths (with content, digital swag, and a chat room hosted by the vendor rep).
Scott McKee
Acadia Benefits Inc.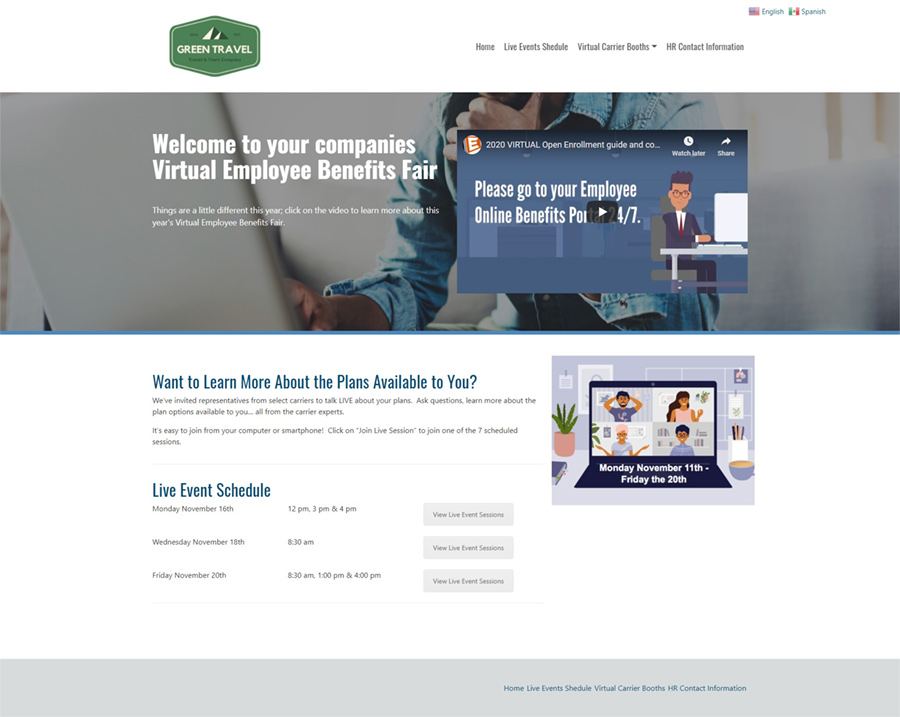 Key Features:
Organize and host live meetings
Live sessions using any web meeting provider (gotomeeting, zoom etc)
Virtual carrier booths – helpful plan info, contact and resources – customized for each event
Live Chat Options – connect in real time with vendors, HR or benefit advisors
Unique Features:
Cost effective -starting at only $750 per event
Quick to implement – event sites can be ready in just 7 days
Fully branded and designed to be custom for each event
Highlight existing Benefits or Online Enrollment